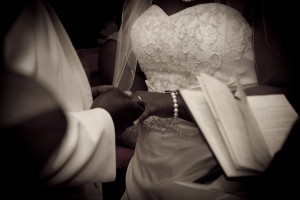 The true emotions of the wedding day can only be captured when the clients and the guests do not know that the photographer is present. A good photograph will bring back emotions, as well as create new ones, as you relive the moment. All our collections are customizable to your needs and budget.   Have you thought about having your bouquet toss or cake cutting from two different angles? How about a photographer with the bride and a photographer with the groom, at the same exact time? Our Love and Eternity collections include two photographers. I know, I know… you're thinking "wow that's going to cost more isn't it?" Not with Totten's Photography it's not. We charge the same affordable rate for two photographers and you're going to get double the amount of pictures.
View Collection Pricing
  Our focus is to capture the intense love, passion and emotions that make your wedding day. Totten's Photography strives to capture not only the main events, but also the ones you didn't even know happened. From the nervousness and exhilaration before you walk down the aisle, to the love in your eyes when you say "I DO". Let Totten's Photography stop these moments in time for you to remember the feelings over and over again as you share these images for generations.   Collections for every budget and for every need. Offering Flashdrive/DVD's with your digital High Definition images from your wedding day with copyright release.
Contact us today!
  Are you wanting Personalized Gifts or decals to create a one of a kind wedding?  Please check out our offering of
Personalized Gifts
& Custom designed graphics for all your needs!